Roxtec Telecom
Safety and reliability are crucial qualities for maximized up-time in all types of telecom networks, mobile as well as fixed-line.
With Roxtec's entry seals installed you can forget your worries and turn your focus to other important issues.
Improve Your Network
Protect equipment from water, dust, and vermin, cut energy costs and ensure minimum downtime.
Roxtec cable entry seals in shelters and cabinets can be closed until equipment arrives.
Then you open them up and route cables of varying sizes.
Minimize downtime during upgrades
When operators share infrastructure, you must handle frequent changes.
With Roxtec, you are prepared thanks to the built-in spare capacity.
Just open up, add cables and re-seal whenever there is a need for maintenance or new equipment.
---
WIRELESS
Fast and Safe Roll-out
With Roxtec's light-weight cable entry kits, you can speed up design and installation.
You can save on energy costs for the air conditioning systems in communication shelters and data halls while you gain the ability to upgrade your network according to future needs.

Built-in spare capacity
Use Roxtec's seals and retrofit solutions where operators share infrastructure, and install new technology next to the old one.
Unused modules can be adapted to new cables, and the spare capacity allows additional cables – without any drilling.
---
WIRELINE
Increase Safety and Capacity
Use Roxtec's cable entry seals to ensure functionality in fixed-line telecom networks and to prepare them for the needs of tomorrow.
When coax cables need to enter switch rooms and communication shelters, just replace old seals with Roxtec retrofit frames.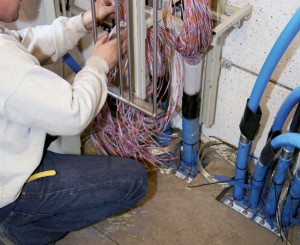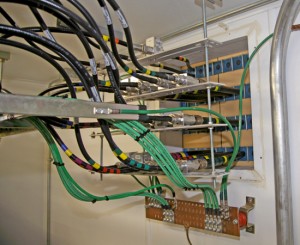 Avoid cable density issues
Run multiple cables through the opening – while the network is up and running.
You can go on adding cables in the same opening. Roxtec's seals handle traditional and new cable technology, including fiber optics.
Roxtec also offers the unique Roxtec Splice Box.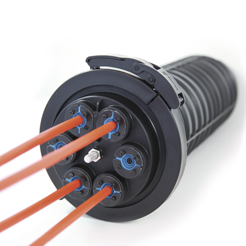 ---
End User Inlet for FTTx applications
The new seal for FTTX applications.
Roxtec presents the new Roxtec End User Inlet (EUI). The seal is designed to be used underground where you install cables such as fiber or hybrid cables in existing buildings (e.g. FTTB/H) and require a high level of protection for equipment. It is tested for constant water pressure and it also prevents rodents and dust from entering the building.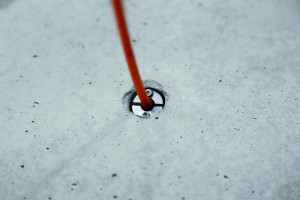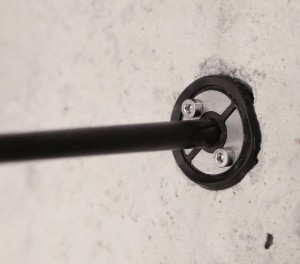 The Roxtec End User Inlet is made of EPDM rubber and stainless steel providing a perfect sealing according to IP 68. Install it in concrete walls or floors where you need a quick, clean and simple installation for new or existing cables!